I'm a global citizen, educator, and union leader; with an academic backgrund in the Middle East and Africa. Cities around the world feel like my home. I'm a professional Educator, which means something both in and out of public schools in the Bronx. I believe in Solidarity, wherever I am. Notes from my travels, research, and encounters tend to end up here... unique visitors since 28/5/11
Ask me anything
Submit
June 5, 2014
Happy birthday José Doroteo Arango Arámbula (Pancho Villa)!


June 5, 1878-July 20, 1923
(via fullcommunist)
January 4, 2014
Mexicali BC, Mexico: "Dia de muertos" protest art in solidarity with migrant workers at the border with Calexico, California, November 1,  2009.

Photo: Revolutionary Autonomous Communities - LA
(via anarcho-queer)
September 2, 2013
Demonstrators clash with riot police during a protest on September 1, 2013, in Mexico city. AFP PHOTO/RONALDO SCHEMIDT
June 28, 2013
Subcomandante Marcos, the spokesman of the Zapatista Army of National Liberation, smoking a pipe atop a horse in Chiapas
Subcomandante Marcos is the spokesperson for the Zapatista Army of National Liberation (EZLN), a Mexican rebel movement. In January 1994, he led an army of Mayan farmers into the eastern parts of the Mexican state of Chiapas in protest of the Mexican government's treatment of indigenous peoples.
(via amodernmanifesto)
December 29, 2012
Zapatistas in Chiapas, Mexico photographed by Shawn Mortensen in 1994.
(via amodernmanifesto)
July 13, 2012
US Secretary of State Hillary Clinton flips her hair standing next to an unidentified official after she stepped off her official airplane June 17, 2012 at Los Cabos International Airport in San Jose del Cabo, Baja California, Mexico to attend the G-20 Summit which starts on Monday.

flips her hair

flips her hair

flips her hair
Hahahaha… The glamour of empire
July 4, 2012
Masked guerillero reads magazine. Chiapas, Mexico, 1994. 

[Credit : Abbas]
(via amodernmanifesto)
February 15, 2012
How Legal Pot Could Save Thousands of Lives? Hint: Stop Feeding the Mexican Death Cartels | AlterNet

What is plain as day is the fact that the demand for cannabis sativa is responsible for more deaths in Mexico than anything else—and after half a decade of unrelenting bloodshed—the body count just recently surpassed the 50,000 mark. Personally, that's a bitter pill to swallow considering 50 percent of Americans now believe marijuana should be outright legalized, according to Gallup's most recent poll from October 2011.

For over forty years, ganja has been the steadiest and most reliable source of income for Mexican traffickers, and it's still the primary substance that lures most wannabe sicarios into the drug running game. Most green-horn dope peddlers don't get their start by transporting tons of coke at a time; rather, they have to earn their stripes by moving up the marijuana food chain—and many don't make it past that point in their careers to begin with.

Most followers tuned in to the legalization debate are already well aware of weed's contribution to the chaos, yet there are still millions of unaware Americans who automatically assume it's the costlier drugs at the heart of the violence. Obviously heroin, meth, and cocaine are significant players in their own right, but by they're nowhere near the bread and butter that pot is to the cartels. This is further illustrated by the fact that the U.N. Office on Drugs and Crime (UNODC) has consistently reported a drop in cocaine shipments from Mexico, and additional studies have shown that the use of the three aforementioned drugs is on the decline in the United States (meanwhile, marijuana consumption continues to rise). 

Having worked extensively along the border as a special agent for the Department of Homeland Security (Immigration and Customs Enforcement's office of Homeland Security Investigations, or ICE HSI, to be exact), I know firsthand the futility behind continuing to wage an all-out war against a plant, especially one that American consumers are demanding more than ever. Realistically, when it comes to the sheer volume of weed arriving daily from Mexico, the entire border from Brownsville to San Diego is like a full-time smuggling feeding frenzy, with DHS personnel practically cross-trained as factory workers in light of the constant pot seizures and undercover controlled deliveries. Lord knows my former brothers would be helping the U.S. more by making better use of their time, like dismantling human trafficking networks for example. These cells are active all across the country, and they're responsible for numerous deaths—like the gruesome slaying recently of Carina Saunders outside of Oklahoma City. +

Jamie Haase, a speaker for Law Enforcement Against Prohibition, served as a special agent with U.S. Immigration and Customs Enforcement.
(via anarcho-queer)
November 30, 2011
Joaquin Luna: undocumented migrant whose lack of hope drove him to suicide
Family says teen feared harsh anti-immigration laws in Texas, and became especially distressed after Dream Act failed to pass
THIS is the human cost of the United States' imperialistic policies, our belief that people with US citizenship somehow deserve better treatment than any other human being, and of nationalism in general


The article opens:
"Before he died, Joaquin Luna put on his best suit, white shirt and black skinny tie, the same outfit he wore every Sunday without fail to the Pan de Vida church in his home town of Mission, Texas. As his brother put it: "He dressed himself to go to God."
Then he shot himself in the shower room, leaving behind a note that explained why he ended such a promising life. He spoke of his desperation at what he felt to be the wall blocking out his future and preventing him from attaining his dreams.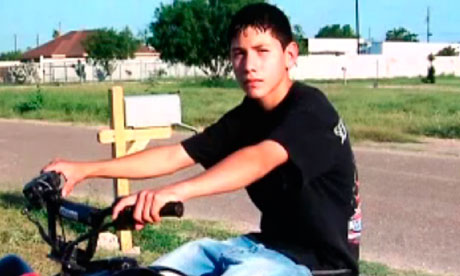 A wall reserved for undocumented immigrants in (The United States of) America.
Aged 18, and in his last year at Juarez-Lincoln High School in La Joya, Luna appeared to have it all going for him. He spoke fluent English, had grades that were regularly 100% and never below 85%, and was skilled at operating computer graphics."
He was one of the smartest kids at school. His passion was for math and engineering, and he had developed his own blueprint for designing houses by computer programme," his elder brother, Carlos Mendoza, says.
The one thing that Luna did not have was the paperwork to grant him legal status in the US. He was born in Ciudad Miguel Alemán in Mexico, right on the border with Texas.
When he was six months old his family, including his parents and five siblings, crossed the border without visas and travelled just about 40 miles to Mission, on the US side of the frontier.
As he grew older, Luna grew more and more anxious about his lack of a social security number that he would need were he ever to find a job. He used to talk about it often to his brothers and sisters, fretting that even if he gained a good college education, he would never be able to find work or support a family of his own.
He also followed politics closely, reading in the newspapers about the harsh immigration laws passed in other southern states such as Alabama and Arizona. "He got angry," Mendoza says. "He said the people passing these laws had no heart: how could they leave so many kids without parents and destroy so many lives?"
When the Dream Act – a law that would have granted undocumented immigrants in higher education such as himself permanent residency status – failed to pass the US senate last year, Luna took it heavily."
He got depressed real bad," Mendoza recalls. "Every one of us, we all get depressed. Some of us can handle it, some of us can't. Joaquin couldn't."
Shortly after 9pm on Friday, Mendoza received a call on his cellphone from his younger brother. Luna was at their mother's house and sounded strange on the phone."
He told me to have a good life, and when I asked him why he was saying that to me, he said: 'Because I'm not going to be here.'" In his last words to his brother, Luna said that he felt he couldn't accomplish his dreams because there was a big wall in front of him.
Fearing the worst, Mendoza began running to his mother's house, but arrived only in time to hear the retort of the gun.
The note Luna left is in the keeping of police investigating his death. Detectives have told family members that in it, he tells them that his main motive for suicide was his lack of legal status and the failure of the Dream Act.
Mendoza believes that his brother took his own life for a purpose. "Everybody has a mission in life and I think this was his – to communicate to people what's going on in America."The family is planning a small funeral for Joaquin Luna on Wednesday.At the weekend a letter arrived for him from the University of Texas-Pan American. It offered him a place for next year in its undergraduate course in engineering.
Source: Ed Pilkington, Based in Manhattan, for The Guardian